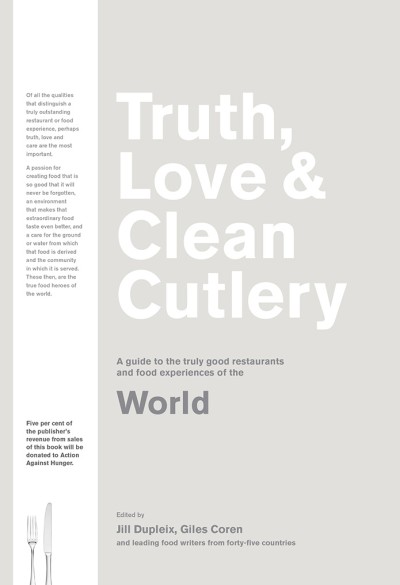 I interviewed Jill Dupleix on my program The Good Life, whose name is very familiar to the foodies of Melbourne.  Jill worked with The Age and was very active on the Melbourne culinary scene before she and husband, restaurant reviewer Terry Durack, moved to London where, for six years, Jill was Food Editor
Back in Australia now, they have settled in Sydney and Jill has been the Co-ordinating Editor for a beautifully presented and photographed restaurant guide which covers those restaurants and suppliers who strictly observe the highest expectation and sustainability levels of those who care about these issues.
The book, titled TRUTH, LOVE & CLEAN CUTLERY features those restaurants which respect and observe these primary requirements.  I found that among the Melbourne restaurants which are covered, there are a number of long-term highly respected establishments which Melbourne diners have loved and patronised for many years. Owner/chefs, such as Guy Grossi of Florentino, have grown up respecting these traditions and I was happy to see that Birra, originally created by chef George Biron (who grew a great deal of the vegetable ingredients used in the kitchen) has maintained this tradition and still rates highly. (I have fond memories of nights spent down there, followed by early morning foraging in the garden before George's workshops that day.)
This would be the perfect choices to slip into the Christmas stocking of anyone who is planning to travel around the countryside and who really cares about sustainable living!
Also lots of interesting information about farmers' markets and other outlets providing local produce.
Ann Creber
Innsifree, Kalorama
3MDR – The Good Life
https://www.3mdr.com/