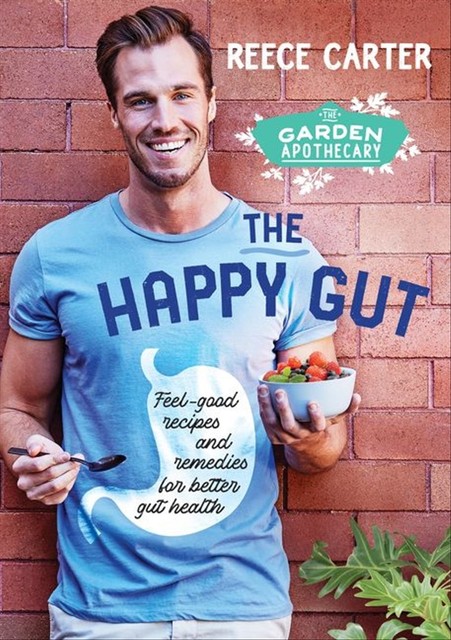 I was really intrigued to receive both the The Garden Apothecary: The Happy Gut Doctor's Diet for review within the same week. Not so long ago, a book related to health and nutrition would have depicted on the cover either a healthy and delicious meal or the photograph of an earnest, conservative, confidence-inducing nutritionist author.
Both books defy those rules and we are treated to covers featuring handsome young men, very much of contemporary times. Their beaming smiles (with perfect teeth, of course!) are on attractive faces garnished with '5 o'clock' stubble', one has boyishly tousled & untidy hair, the other a fashionable swept back style.
Their clothing, too, reflects contemporary fashion – one wears a carelessly buttoned denim shirt, the other a sloppy T-shirt, and in the book we meet him wearing fashionably ripped blue jeans!
(Now I am NOT complaining, just remarking on how times have changed!)
Having 'covered the covers', I found both books to be filled with commonsense health advice, delicious recipes and practical tips for using leftovers to create interesting meals. Fresh ingredients play a major role in both books.
Reece Carter is a well qualified naturopath and a keen gardener, so there are plenty of recipes and remedies featuring herbs and vegetables and also an abundance of gardening tips and recipes using economical ingredients. He also offers 'recipes' for a range of remedies both for curing and preventing ailments.
Likewise Dr Sandro (ABC host on TV) uses herbs and vegetables lavishly and gives tips for establishing a home mini herb garden. He also offers a range of delicious, family-friendly recipes reflecting his Italian heritage.
I must add a word of praise for the stylists and photographers who make the food look SOOOO appetising!
I really liked both books and, even if you don't follow the advice or the recipes, you have a couple of very decorative additions to your coffee table recipe book collection!
Ann Creber
The Good Life on 3MDR (97.1 FM, streaming n http://www.3MDR.com) Live to air every Monday 3.00-5.00 P.M.
PUBLISHER: HARLEQUIN