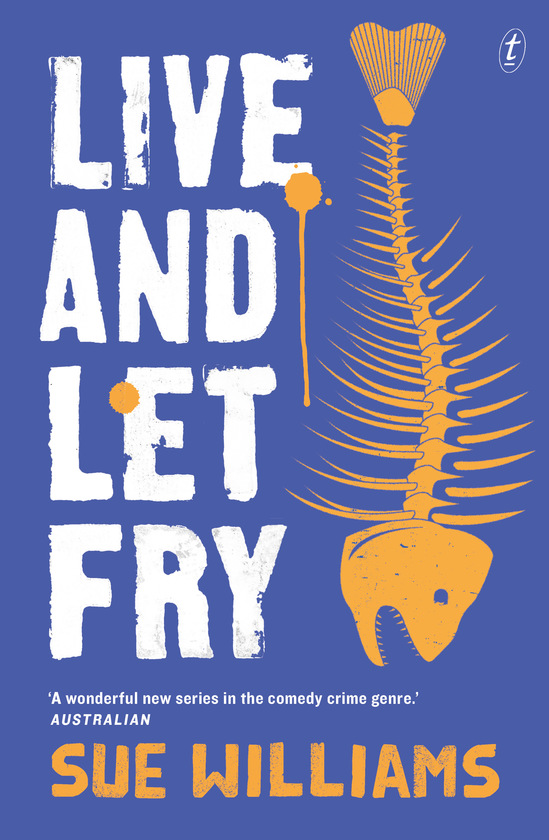 I have really enjoyed Sue's two previous books covering the 'investigative activities' of small-town sleuth/fast food outlet owner, Cassie Tuplin.
Of course I was delighted to see she had written a third in the series and I was not disappointed! Sue has done it again!
When I tell you I collected the book from my local Post Office Monday a.m., started reading it that night and finished it Tuesday night, that is probably all I need say….. such an easy, entertaining and enjoyable read.
The story itself is quite complex and features an oddly assorted cast of off-beat characters. Our "heroine", Cass Tuplin, owner of the fast food eatery in the dying country town of Rusty Bore, mother of Dean and Brad, is also an "unofficial" private investigator.
This horrifies and embarrasses her son Dean, the local policeman, who is a plodding constable strongly disapproving of his mother's involvement in what he considers strictly "police business". On previous occasions he has had to threaten her with arrest!
Her other son, Brad, is a passionate Greenie, a vegan who feels the world is doomed because of the abuse of the environment by the human race. At this time, both sons are experiencing difficulties in their personal lives with their respective partners.
The book abounds in colourful characters… neighbour Vern, old Ernie, Madison (who keeps ferrets and takes them shopping with her), to name just a few.
Of course, there are other more sinister characters and we follow Cass in her complicated investigation of two local murders, a disappearing woman, and dodgy land developers.
The dialogue is deliciously dry and witty and we find ourselves totally in sympathy with Cass and her evasions and subterfuges as she tries to unravel all the issues in this case.
There is even a romantic thread associated with Leo, an attractive man with whom Cass had a liaison before he headed off to work in Bolivia.
Of course there is the satisfying resolution to the mystery and we share a happy ending.. and eagerly await Sue's next book following the escapades of the heroic Cass!
Hope you enjoy this book as much as I did! I'll be speaking with Sue on The Good Life….
Best regards,
Ann
Ann Creber (anncreber@tpg.com)
The Good Life on 3MDR 97.1 FM, streaming on http://www.3mdr.com Live to air every Monday 3.00-5.00 P.M.
Publishers: Text Publishing